Fort Clinch State Park is our last stop in Florida.  
I saw an armadillo walking by the side of the road here. I think of Texas when I think armadillo, NOT Florida. I have a hard enough time keeping track of where we are and what day it is without getting confusing signals like that.
We tried to go see the fort itself before checking into our campsite for the night but we got there just in time to see the last reenactor leaving for the day. We've probably seen enough forts for now anyway.
Our assigned campsite, #23, had a picnic table in the middle of it. We had to park on the narrow road while Dave moved it. People still managed to pass us, though. And once we got into the spot we discovered it was perfectly level. Yay!
But!  When we plugged into the electricity we found an open ground so our EMS said, "No no." Move or boondock? Too tired to move. So we opened the windows, turned on all our fans, and stayed put.
Outside our window is a clothesline installed as an Eagle Scout project.
Hanging from that clothesline is a blue glove of the type used to wash cars. Inside that glove is a bird nest. Next to the nest is a sign saying the birds don't mind you using the clothesline.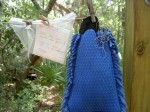 Do you suppose the birds were too tired to move, too?
TTYL,
Linda