Nick & Terry Russell, who publish the Gypsy Journal, some RV how-to books, and several blogs, http://gypsyjournal.net/blog/ sponsor two rallies each year. We are currently attending one in Yuma, Arizona.
Arrival day in the staging area where RVs lined up waiting to be escorted to camping sites looked like this.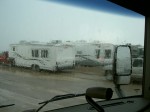 Yuck. I had to walk through that muck from the motorhome to the car. Dave had it worse; he had to unhook the car from the motorhome in that muck.
Here's the good news.  Look how close to an entrance gate they had us park. That's Dave coming through the gate with our dash and windshield wiper in the foreground.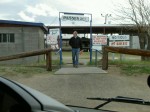 But, here's more bad news–our electrical hookup. It's only 20 amp. When it works at all. Dave has had to go our several times to reset the circuit breaker.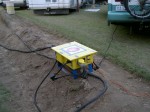 Then more good news. The seminars have been fun and informative and the vendors have lots of good stuff we need.
Of course, that means we are spending lots of money. Here's the company that got most of the money doing upgrades to our RV.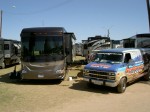 At least now our car has it's own braking system for when we are towing it so it won't try to push the coach if we should have an emergency. And the coach itself should be much easier to handle while driving down the road. We'll find out how true that is when we take our driving lessons starting tomorrow afternoon.
In the sunshine.
Which we've had all week once that first day's rain was over.
Life is good.
TTYL,
Linda