We have arrived at Mississippi Riverwood. Many years ago this place was a KOA. Now it is a co-op RV park.
Here's our site, #310. On the right you can see the green power pole where our water, sewer, and electrical hookups are. To the left of that is a concrete patio with a picnic table. We are to park between the power pole and the patio. Behind our parking spot is the shed that belongs to this property with its pile of firewood we have permission to use. Between the shed and the picnic table you can very faintly see a concrete fire pit. At the very far left of the picture you can see the site number post with its welcome sign and just past it the very end of our driveway/parking area which we think will hold three cars.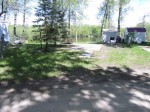 This is our neighbor to the north with our car in our driveway: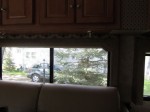 And this is our neighbor to the south: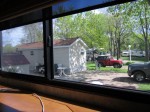 This is Dave's view of the Mississippi River from his chair: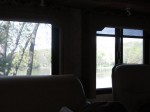 Here are some detail shots:
The picnic table. It could use some rehabilitating.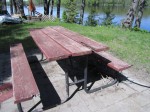 The upper level fire ring.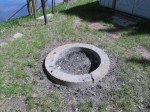 The lower level fire ring.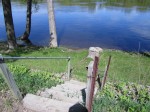 It is, too, there. Look just to the right of the tree.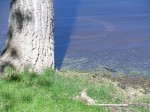 OK, so we need to wait for the river to go down a bit before we can use that one. At least we are unlikely to get flooded out of our campsite this year unlike last year when we camped along side the Minnesota River.
Our nearest neighbors. The ones we are hoping don't move inside with us.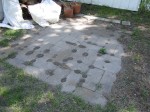 And our neighbors across the street.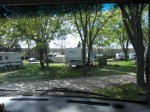 Behind them you can see the sound barrier wall that separates us from Hwy 101. We still hear the traffic there but we don't mind that. And, no, there are no railroad trains blowing their whistles on the other side of that highway. The trains are across the river.
TTYL,
Linda