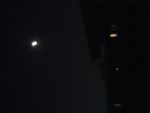 Click the picture to enlarge it.
I think that looks like a half moon.
Does it look like that to you?
It's not.
It's a full moon.
Halfway through a lunar eclipse.
Which is a good example of what we think we see is influenced by what we already know–that which is familiar to us.
And that happens with more than just the moon.
TTYL,
Linda