Today is a dampened day. Do you remember taking a soda pop bottle, filling it with water, putting a special top on it, and using it to dampen clothes to make it easier to iron them? Maybe today is getting ready to help get the wrinkles out of our travels.
Reading another RVer's blog found this quote, "Spontaneous travel takes a lot of preparation." This person understands me spending so many hours online researching spots and sites ahead of us so we can spontaneously decide each day which things to do that day. Our daughter says my research is worth charging people to share it with them. But, I feel it is so special to our own tastes and interests that most other people wouldn't find my lists useful. So, I just randomly put the public camping parts of my lists on my blog. I hope people are finding that useful.
Today we chose Okefenokee National Wildlife Refuge as our site. We explored their visitor center and saw a great film there.
Check out this display that is overhead so you see things as if from the bottom of the swamp.
Then we drove down Swamp Island Drive. Some of this looked a lot like the Everglades but some was very different.
Dave took a hike down the Homestead trail and brought back these pictures of the Chesser Island Homestead. Notice there is no growth in the yard. That's to reduce fire danger and increase visibility of snakes.
The Chessers were a typical family eating what they could grow, catch, or hunt. For cash they grew corn or sugar cane and tapped trees for turpentine. Work and play often came together such as at at hog butchering and syrup grinding time. Life was hard but it could be fun, too. The Chessers were fond of four-note, or sacred harp, singing. Chesser descendants continue to sing the primitive, a capella, harmonies today.
Dave's next hike was down the Swamp Walk Trail. This is the boardwalk that runs the 3/4 mile length of this trail. It is smooth and level enough to be wheelchair accessible. I could have ridden my Segway down it if I'd been willing to risk more bug bites. But, since I still look like I have chicken pox, I decided not to do so.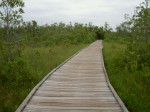 This is one of the carnivourous plants that grow here.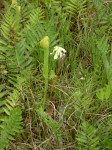 This is a gator hole–the place where a gator digs himself in to keep cool or warm depending on what the weather is doing. His digging helps keep ponds open for the use of other wildlife as well. This one is supposed to be a good place to watch for turtles if you have enough time and patience.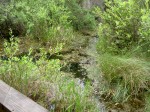 This is a transition from pond to forest. The pond is slowly filling with vegetation that may eventually support large trees.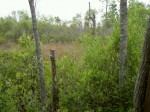 These are dead cypress trees. They were killed by wildfire back in the 1950s. They are now favorite scratching posts for the 400 or so bears who live here.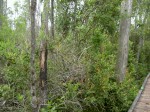 This is a view of a prairie and a deep pond. Alligators nest near here. They lay 30-50 eggs on peat mounds. The heat of the decaying vegetation incubates the eggs.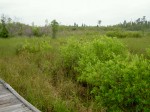 This is the Owl's Roost Tower located a the end of the boardwalk and the views from it.
I hope you enjoyed our visit to the Okefenokee National Wildlife Refuge.
TTYL,
Linda