We've been traveling around New Mexico and Arizona for awhile now and things are starting to tie together.
As I mentioned previously we visited the Very Large Array in New Mexico.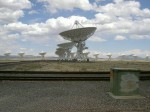 There we learned that students from the University of Minnesota, Dave's Alma Mater, asked to have the radio telescopes pointed at an area of the sky that turned out to be empty. Not a black hole. Not a dense cloud. Empty. A hole among the stars.
Later we visited Meteor Crater in Arizona.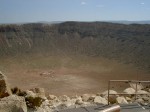 Another hole. This one in the ground. Made by something falling from the sky.
Today we visited Lowell Observatory in Flagstaff, Arizona. Where we got to see a photograph of the hole in the sky. And a piece of the meteor that made Meteor Crater.
Big little world.
TTYL,
Linda