The money from selling the previous RV has arrived so it's time to order my next one. I have never had any doubt about what brand this one would be: a Mercedes-Benz Sprinter cargo van (http://www.mbsprinterusa.com/shopping-tools/build-and-equip) converted by Sportsmobile (http://sportsmobile.com/) to my design.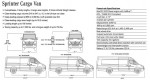 That didn't make ordering the van as easy as I expected it to be. I knew I wanted the Gross Vehicle Weight Rating of 11,030 pounds but I thought I could get by with the regular 170″ wheelbase one. Nope. When I started playing with roof layouts I discovered I couldn't get everything I wanted on the roof without having equipment shading my solar panels. That's not a good thing. So I'm going with the tallest and longest one on the chart above. It's also the one on the very right of the chart below.
My special order items list for the van is not a long list but it does include some very important items. Like an upgraded suspension package for vehicles that carry weight up high. A trailer hitch package. Cruise control. Upgraded seats for long driving day comfort that swivel so the driver/passenger seats (Mercedez-Benz calls the passenger seat a co-driver seat since these are cargo vans) can become part of my living space. And a few more details like that.
Most of these vans are Arctic White. I ordered Grey White, instead.

Because it looks like Arizona dirt so maybe I won't feel compelled to wash it so often during my snowbirding seasons. And so I can pick mine out of the crowd at gatherings.
So that's done. Now to work some more on the interior design. I only have three to five months to finalize it before the van arrives.
TTYL,
Linda
ps. Down another pound this week. I like this trend.